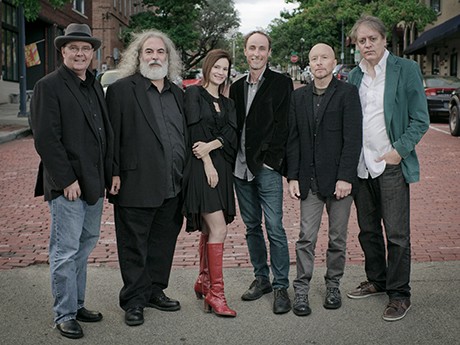 For over 30 years, 10,000 Maniacs have won the hearts and ears of music fans around the world selling over 10 million records. The group was founded in the fall of 1981 in Jamestown, NY, by Robert Buck, Dennis Drew, Steven Gustafson, John Lombardo and Natalie Merchant with the later addition of Jerry Augustyniak in 1983. Together with artists like R.E.M. they helped define "college rock" and the first wave of "alternative rock" bands with their pop-conscious, literate and lush aesthetic.
The band sold 3 million copies in 1992 with the landmark Our Time In Eden (Elektra), bolstered by alt-rock radio mainstays "These Are Days" and "Candy Everybody Wants."
The band's newest recording, Twice Told Tales, is a full-length collection of traditional British Isles folk songs; it was released on both CD as well as a special 180-gram 12" vinyl format on Cleopatra Records on April 28, 2015. Founding member and keyboardist Dennis Drew explains the germination of the project, "Folk music of all types has been a strong influence on the band. One of the songs on the new record 'Do You Love An Apple' has been in our repertoire for 30 years. We've also recorded Carter family songs and other American, Irish and British Folk music in the past. These are timeless melodies." Drew continues, "Some songs are funny, some are heartbreaking. Most are 100, 200, 300 years old. It's crazy how they can be turned into 21st century pop songs!"
The band continues to tour incessantly in the U.S. and has made many new fans in Mexico, Germany, Japan, Portugal and Brazil with their Pledgemusic campaigns. Their Pledgemusic campaign has also raised money for Children's Hospital of Buffalo and The Robert Buck Memorial Scholarship fund in honor of the late guitarist who passed away in 2000.