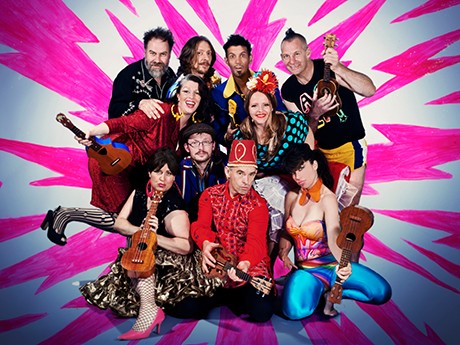 Hailing from the home of The Hobbit movies and sharing DNA with Flight of the Conchords, New Zealand entertainment powerhouse The Wellington International Ukulele Orchestra are in hot demand worldwide for their winning combination of charming humour, disarmingly small ukuleles, and sublime musicality.
The Wellington International Ukulele Orchestra are skilled performers who live to entertain, making sure audiences forget their troubles and sing their hearts out. Their signature sound features high-octane ukulele solos, heavenly multi-part vocal harmonies and an impressive range of ukuleles. Flamboyant outfits, delightful theatrical effects and convivial crowd participation complete the night.
The band's repertoire is a superbly eclectic curation of songs appropriated from many genres alongside tunes from the South Pacific, all packaged into a spectacular, unmissable funfest. Expect to hear fantastic "ukulelefied" versions of rock and pop classics by the likes of Justin Timberlake, Dolly Parton, Cyndi Lauper, Blondie, Salt n Pepa and much, much more.
The band's number one rule is: "If you know the words, sing along. If you don't know the words, sing along!"