---
Exclusive or Non-Exclusive: That is the Question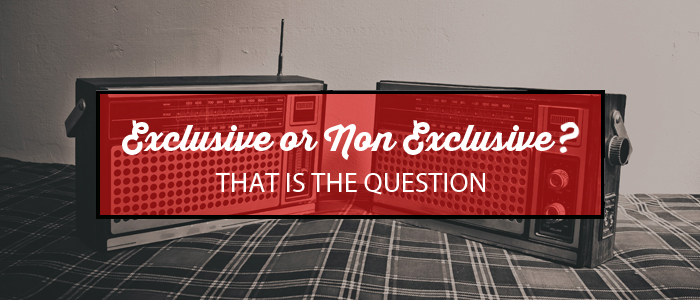 07

Mar 2016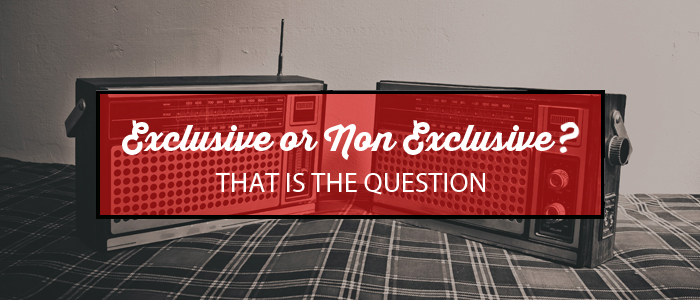 By: Zach Miller, Music Dealers
"To be or not to be? That is the question," wrote Shakespeare, a dilemma most artists have wrestled with at one point or another in their careers.
"To work with an exclusive licensor or a non-exclusive licensor?" That is the question we're exploring today with this quick breakdown.
Exclusive Music Licensing Companies
1) Where Music Is Placed
When the rights to artists' compositions are administered by the publishing arm of exclusive licensors, that company holds the exclusive right to those compositions, which means you can't secure a placement through anyone else. Additionally, by only being able to license the sound recording of a composition outside the exclusive licensor, artists miss out on sync licensing opportunities for movies, television shows, commercials, and video games.
2) How Songs Are Handled
Depending on the contract, the company might be able to make any changes to your music, including adapting, translating songs into another language, or having a different artist create cover versions of your songs.
Many times, artists are locked in to the company's contract for a full year term on sign up. In at least one example, to get out of that contract, you must give notice months in advance or the agreement is automatically renewed for another year. If the company changes its Terms of Service while you're under that agreement, you're legally bound to the changes whether you like it or not.
3) What Artists Pay And Are Paid
For some companies, artists have to pay setup fees when working with the licensor's publishing administration. If you don't pay it upfront, then some companies recoup the original setup fee from any monies collected until the fee is paid.
Most companies also keep a portion of all Gross Receipts, which is any revenue that comes to the company for your music. Additionally, if the company places your music in a TV show or an ad, it then retains a different portion of the resulting revenue.

Non-Exclusive Music Licensing Companies
1) Where Music is Placed:
At non-exclusive licensing companies, artists can do virtually whatever they want with their music while the company licenses it. That means you can even submit your music to a different licensing company or a music library – as long as they're non-exclusive, too.
2) How Songs Are Handled:
At nearly all licensing companies, requests come in all the time for an instrumental version of a song or for changes to the lyrics. When that happens at Music Dealers, the company reaches out to the artist directly and works with you to adapt your songs to a version that both you and the client will love.
Also, artists can opt out of their agreement with Music Dealers at any time during the contract. We update our Terms and Services every now and then, but you're not required to continue working with us if the changes don't suit your needs.
3) What Artists Pay And Are Paid:
We have a saying at Music Dealers: "We don't get paid until you get paid." We'll never charge our artists for anything, including getting you set up in our catalog. Truly, we don't get paid until you do.
Also, at most non-exclusive licensing companies, artists keep 100% of the songwriter split of the Gross Receipt and negotiate a split of the publisher's share with the company.
Read the full article HERE
This article has been republished with permission.