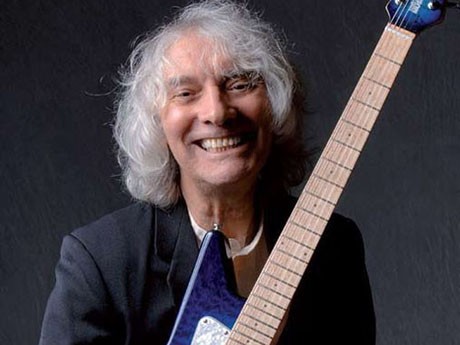 Guitar legend ALBERT LEE first came to prominence during a 1964-68 stint in British Blues and R & B stalwarts Chris Farlowe's Thunderbirds. After working in the UK bands for touring country acts such as Bobby Bare and Skeeter Davis, Lee's next full-time berth was two years with the UK answer to the Flying Burrito Brothers and Nitty Gritty Dirt Band–Head, Hands, and Feet. His reputation grew and session work blossomed, including appearances on "The London Bo Diddley Sessions" for Chess and Jerry Lee Lewis' "The London Sessions". This and other work with U.S. based greats led to a permanent position in the Crickets, and by the time that ended Albert had long since made Southern California his home. There he became friendly with Don Everly, who had also settled in Southern California; they played regularly on a formal and informal basis, with Albert contributing to Don's 1974 solo effort "Sunset Towers".
An invitation around the Christmas season in 1978 led to a five year adventure for Albert in Eric Clapton's band. The live album "Just One Night", recorded at Budokan in December 1979, was the first release (April 1980) to feature Albert. "Another Ticket" (Feb. 1981), "Time Pieces Vol 2-Live in the 70s" (1983), and "Money and Cigarettes" (Feb. 1983) all were part of Albert's tenure with Eric.
Albert remains an occasional member of the Crickets, and tours regularly with Bill Wyman's Rhythm Kings. Sugar Hill records released Albert's solo efforts "Heartbreak Hill" in 2003 and "Road Runner" in 2006. A summer 2011 jaunt with John Jorgenson prompted Albert to form his own U.S. band for the very first time.
The Albert Lee Band includes John Thomas, aka "J.T', on keyboards. J.T.'s musical resume includes 23 years with Bruce Hornsby, who graciously called John "the greatest keyboard player in the band." Emmylou Harris, Don Henley, Sparks, Tracy Chapman and a host of other have called upon John's gifts. Bass playerWill MacGregor's credits are a testament to his wide-ranging talents, having worked with the likes of the Pretenders, Pat Boone, Exene Cervanka, and more. Jason Smith brings both the subtlety of jazz and pounding pulse of rock to his drum stylings. Among his many credits: his jazz trio released the celebrated "Tipping Point" and "Think Like This" CD's , and on the rock side Jason toured with Five For Fighting, supporting the "America Town" CD with it's smash single "Superman (It's Not Easy)"